Product Description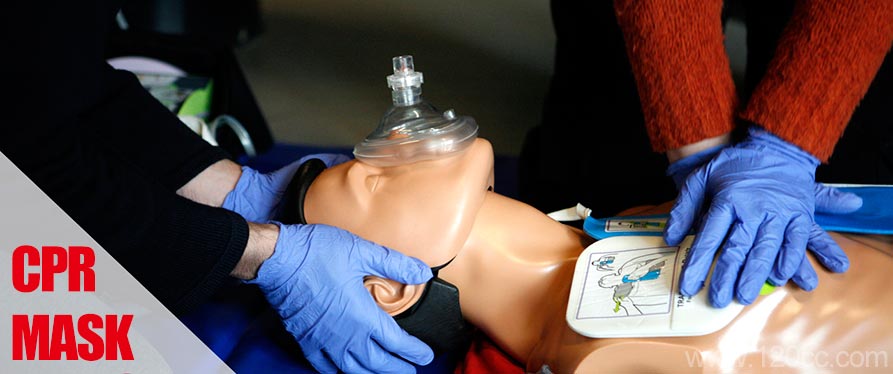 CPR Kit / CPR Kits / CPR Medical Kit / CPR Emergency Kit / CPR Practice Kit / CPR Face Shield / CPR Mask / CPR Protective Barrier / Rescue Breathers / Resuscitator / Mouth to Mouth Breathing Mask / Mouth to Mouth Mask
Type: CPR01 CPR First Aid Kit
As a leading provider of first aid kits and emergency survival kits, we develop this type CPR First Aid Kit, to meet the needs of traveler, driver, soldier, sporter, sailor or any person who require a quality resuscitation mask for use in lifeguarding, emergency response, and CPR/AED for professional rescuer courses.
This CPR01 kit includes everything you will need in a CPR emergency. Products are contained in a sturdy, reusable plastic case.
Features include:
Easy to assembly and use.
Includes an oxygen inlet valve for delivering emergency oxygen.
Designed with a head strap to hold the mask on the victim's face.
Designed to be heat and cold resistant, allowing it work effectively in different environmental conditions.
Made of malleable material, providing an excellent seal to the victim's mouth and nose.
Designed to be transparent to assist with identifying obstructions.
Directions for use:
1. Remove mask from case
2. Unfold mask and check for airflow
3. Put the mask on patients face as shown
4. Blow into one way valve and observe chest rise
5. Remove mouth from valve to allow for exhalation. Repeat as per CPR guidelines
6. Use mask in inverted position for infant.
Caution:
1. This product should be used only by persons who have received adequate training and instructions from qualified medical personnel.
2. Connect the oxygen supply line if necessary.
3. In the presence of high oxygen concentrations and explosion may be caused by naked flames, or by oil and grease on the resuscitator.
Warning:
If oxygen is used,do not smoke or use in the presence of sparking equipment or open flame.
Contents:
1. Foldable cushion mask with oxygen port
2. One-way valve
3. Disposable filter
4. Elastic head strap
..
All materials are Latex Free
Dimension: 130 x 106 x48mm(125G/PC )
Operation temp:-18°C~40°C
Storage temp:-30°C~52°C
Storage relative humidity:<85%
Operation function: Inspiration/Expiration resistance less than 4.5cmH2O at 50 LPM
Kit Color: white / red / blue Different colors are available
Kit Specification:
Shipping Ctn Size: 43*39*24CM
Qty Per Ctn: 50PCS/CTN
G.W./N.W.: 7/6.3KGS
Kit Contents:
NO.

CPR01 First Aid Products

Qty

1

Outer Plastic Box

1

Pc

2

CPR Mask with Oxygen Inlet with head strap and one-way valve

1

Pc

3

Disposable Gloves

2

Pcs

4

Alcohol Perp Pad

2

Pcs

5

Instruction Guide

1

Pc

Total

7

Pcs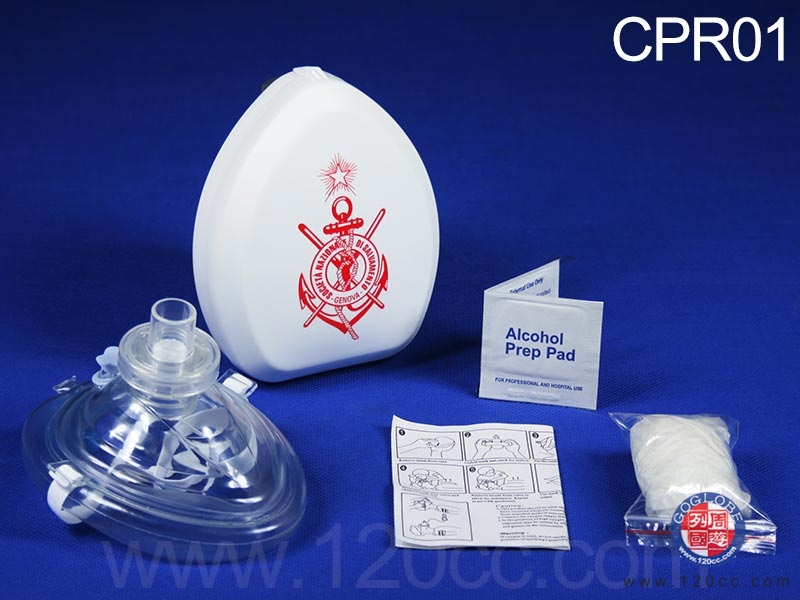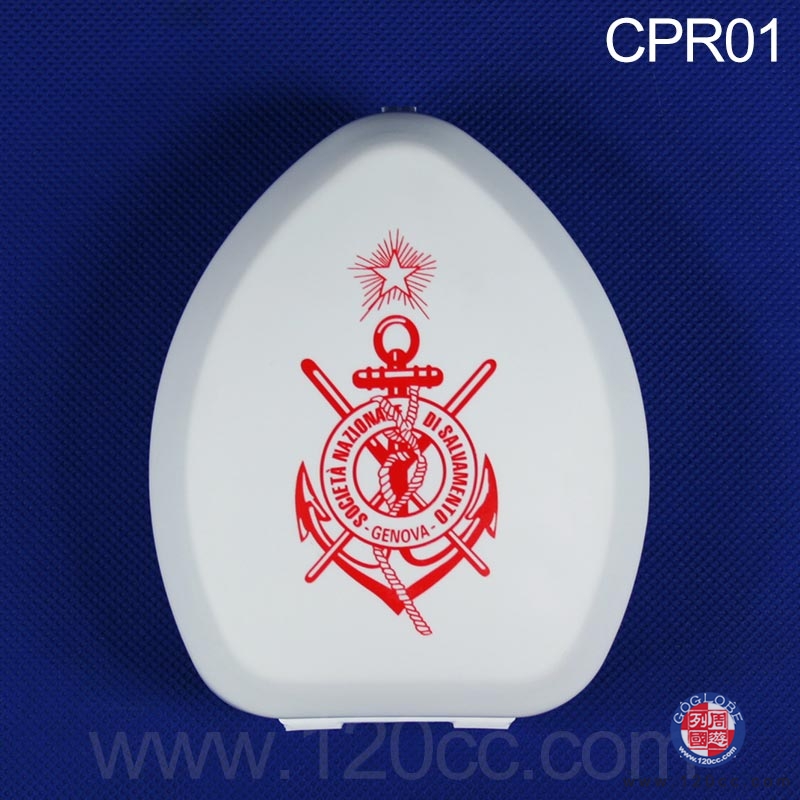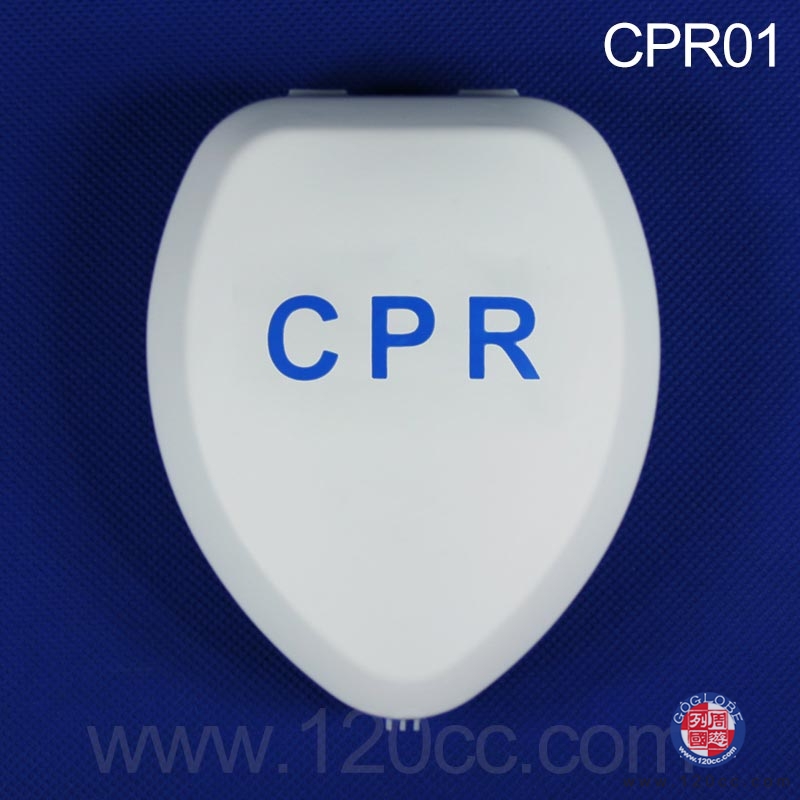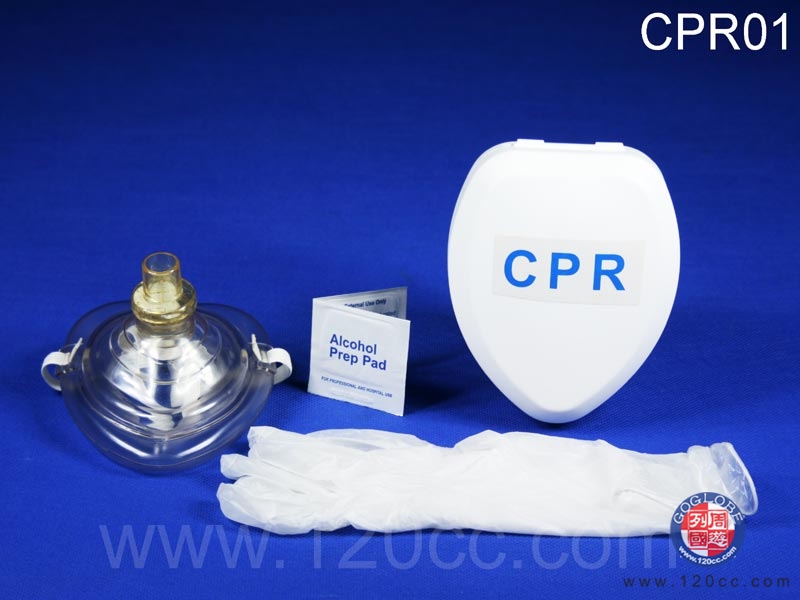 www.120cc.com
Guangzhou LCL Trading Ltd.
Tel & Fax: 86-20-81693450
Email: info120cc@aliyun.com
Sype: czs120cc Facebook: ××××× Twitter: ×××
Add:Rm 312, Building 1, Chajiao Rd, Guangzhou,510370 China