Product Description
Thermometer / Clinical Thermometer / Glass Thermometer / Mercury Thermometer / Digital Thermometer / Electronic Digital Thermometer / Ear Digital Thermometer / Infrared Ear thermometer / Forehead Thermometer Strips / Fever Scan Thermometer / Feverscan / Liquid Crystal Thermometer
Type and Size:
Digital Thermometer
Electronic digital thermometer can quickly measure body temperature accurately. Compared with the traditional glass mercury thermometer, it has advantages of easy reading, quick response, secure and accurate measurement, memory and buzzer's alarm, etc. Particularly, it has no harm to the environment as well as user's body because on mercury is used. It suits to be used in family, hospital and so on.
How to use:
1. Before use, please disinfect the probe with alcohol first or put a probe cover on the sensor tip.
2. Press the on/off button, Bi sound will be heard and display "188.8SE" for about 2 seconds.
3. After that, the thermometer will display the last temperature memory for about 2 seconds. Then display " L ℃" or " L ℉" and signal.
"℃" or "℉" flashing that means the thermometer is waiting for use. (If the temperature in room is above32 ℃, the thermometer will display the room temperature, not display L ℃ or L ℉ , meanwhile ℃ or ℉ is flashing).
4. Use the thermometer to measure body temperature, the value of temperature displayed will arise gradually and " ℃ " or "℉" is flashing.
5. The measurement process usually takes 2 minutes or so. After measurement, " ℃ " or "℉" will stop flashing and the alarm signal will sound 5 seconds or so, at the same time, the thermometer will display the user's body temperature.
6. This thermometer can automatically shut off within 10 minutes after measurement. It is recommended to turn off the power manually right after measurement in order to save energy.
7. Please use thermometer in the condition of temperature (10-35) ℃ or (50-95) ℉ , relative humidity (60+/-20)%.
Take Temperature:
When you measure your body temperature, please remain to measure at the same place for some time.
1. To take temperature under tongue before measurement, please close your mouth for 5 minutes or so, then insert the sensor part under the tongue, keeping nestled and close your mouth. LCD reading is the final reading.
2. To take temperature in the armpit before measurement, please completely wipe the sweat there away, then close the armpit for about 5 minutes and insert the sensor part against the center of the armpit closely. Put both left and right waist intersection, making the thermometer in contact with the user's body closely. Add0.5 ℃or0.9 ℉to LCD reading to obtain final reading.
3. To take temperature in the rectum inserts the sensor part into anus gently. Minus0.5 ℃or0.9 ℉to LCD reading to obtain final reading.
C3311 Electric Digital Thermometer
Standard
Range ( ℃ ): 35-42
Min Subdivisions ( ℃ ): 0.1
Allowable Error( ℃ ): +/-0.1 (36.0-39.0); +/-0.2 (<36.0 or >39.0)
Power: DC1.5V (AG3 or SR41W)
Power Consumption: <0.15Mw
BatteryLife: >200 hours
Shipping Ctn Size: 62*30*37cm
Qty/Ctn: 400Pcs/Ctn, 40Pcs/Inner box, 10 Inner Boxes/Ctn
G.W./N.W: 16/14KGS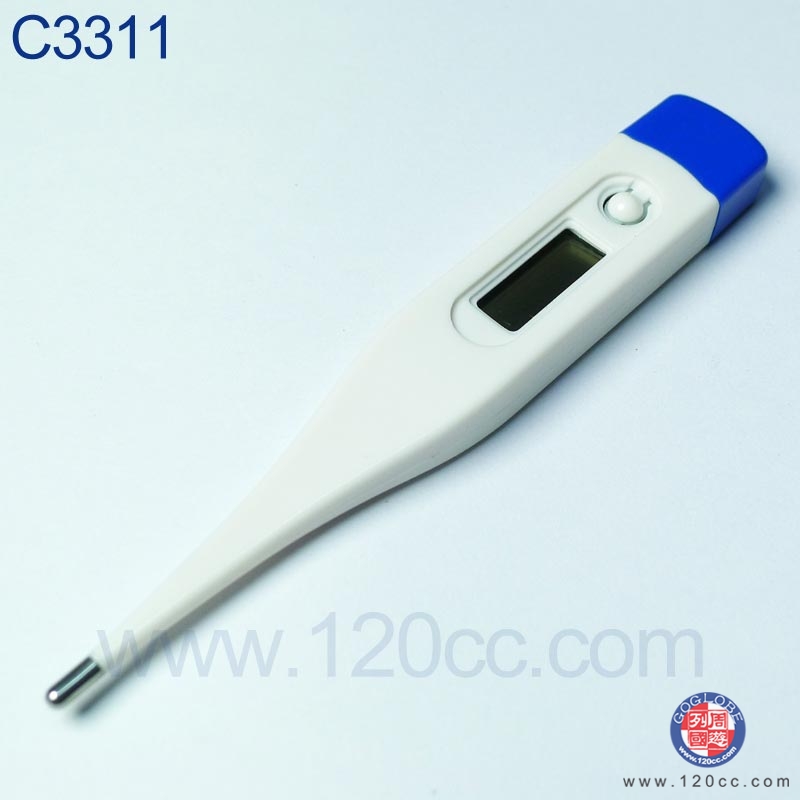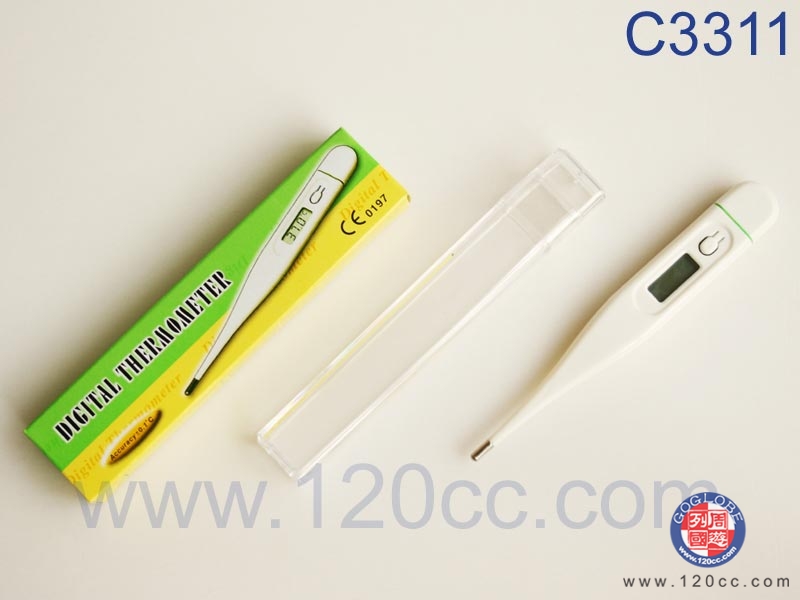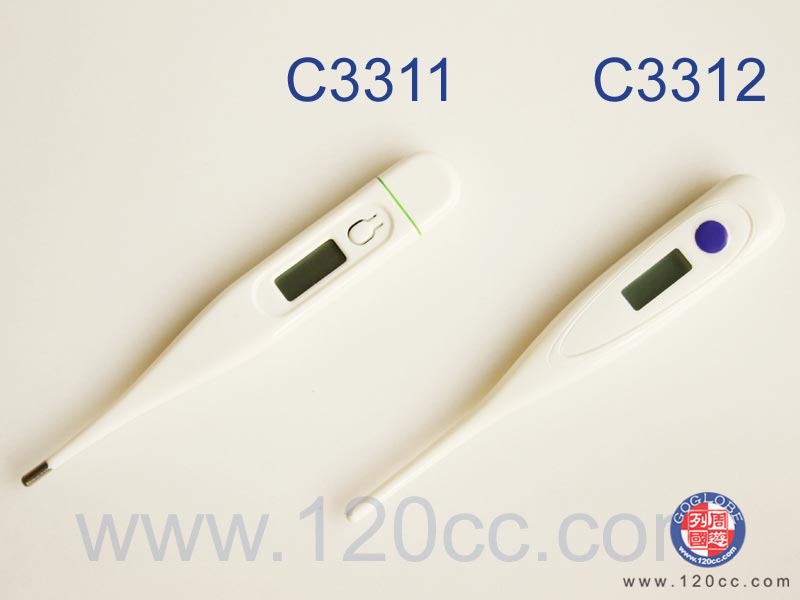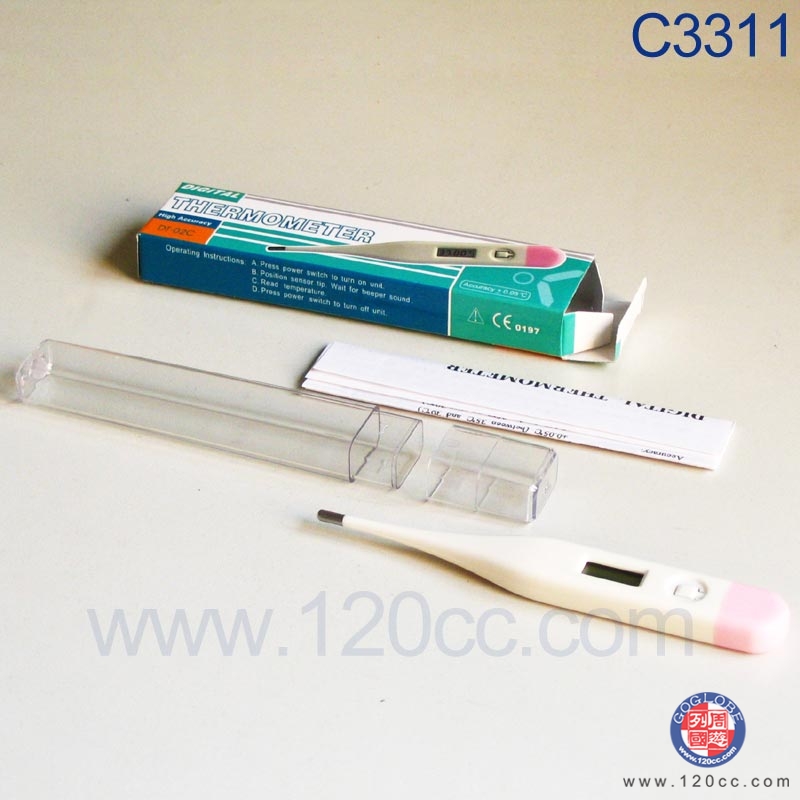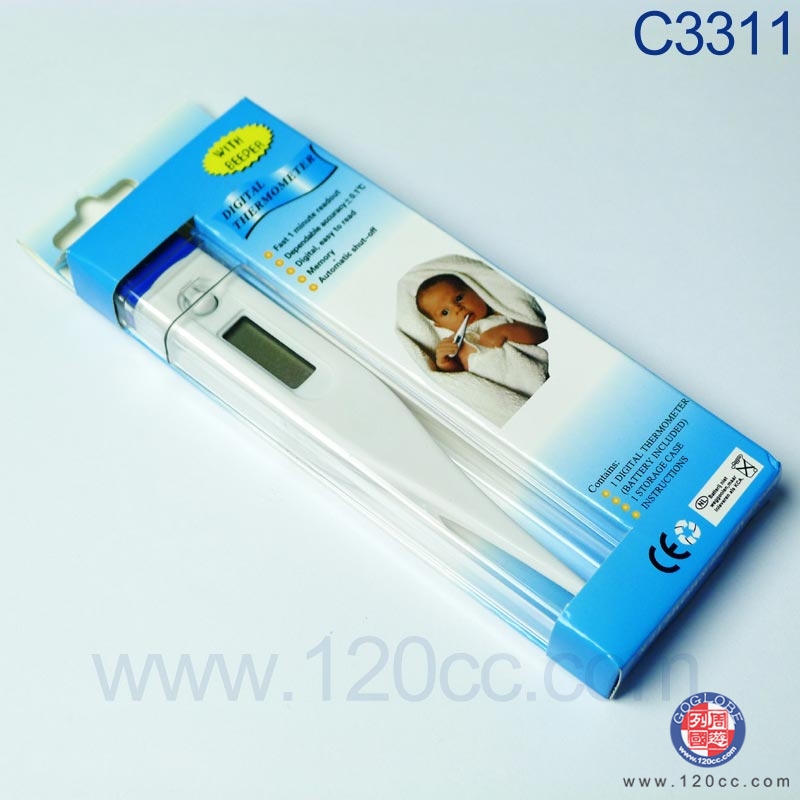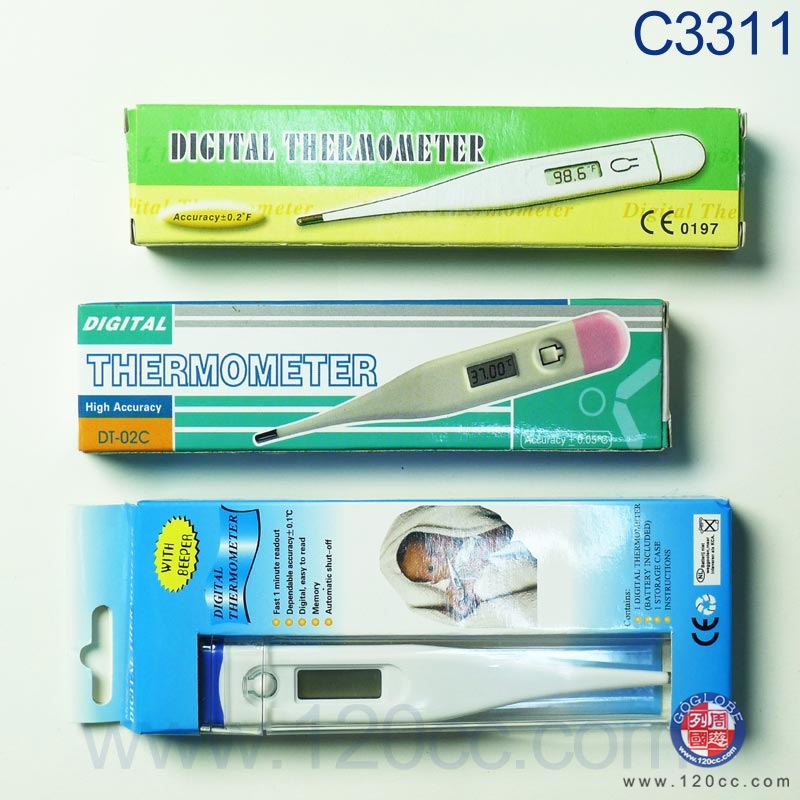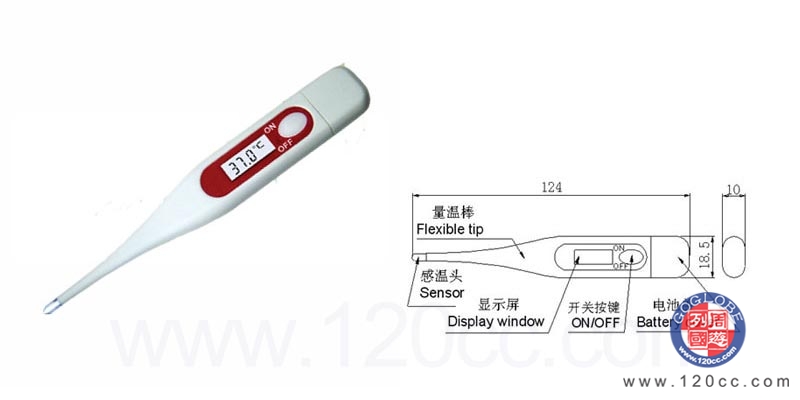 www.120cc.com
Guangzhou LCL Trading Ltd.
Tel & Fax: 86-20-81693450
Email: info120cc@aliyun.com
Sype: czs120cc Facebook: ××××× Twitter: ×××
Add:Rm 312, Building 1, Chajiao Rd, Guangzhou,510370 China