Product Description
Band Aid / Adhesive Bandage / Adhesive Plaster / Knuckle Adhesive Bandage / H Size Band Aid / Fingertip Adhesive Bandage / Butterfly Band Aid / Spot Round Size Band Aid / Snips Adhesive Bandage
Type and Size:
C2316 Band Aid
Size: 72*19mm
Material: Elastic Cloth / Cotton Cloth /GridPE/ Gird PVC / Gird PU / Non-Woven Fabric / Foaming
Color: White / Skin Color / Dark Skin Color / Cartoon Design / Customized Color
Inner Box Meas.: 15.5*9.5*3cm
Qty per Inner Box: 100pcs/Innner Box
Weight per Inner Box:73g
Shipping Ctn Size: 49.5x28x33cm
Qty/Ctn: 10,000PCS/CTN
Band Aid mainly is composed of a base material (Elastic Cloth / Cotton Cloth /GridPE/ Gird PVC / Gird PU / Non-Woven Fabric / Foaming), absorption pad, backing material is composed of three parts. Substrate play a fixed role, can be absorbed pad firmly compound on top of it, when in use and can firmly adhesion to the skin. Products non-toxic, low sensitized and on the skin without stimulation, and the EO sterilization; external dressing, with bleeding, supporting a role, for small trauma, scratches and other surface of the skin, to prevent the intrusion of bacteria and other substances, accelerate wound healing.
It consists of flakiness (strip) adhesive tape, water absorption mat and insulation film. It will be sealed and packed with cool sealing packing paper, and then sterilized by EO. It is used for hemostasia and protection of all kinds of small wound.
The product has no toxicity, low irritability, no stimulation to skin. Meanwhile it has sterilized by EO effectively; The water absorption mat is made of artificial cotton. It is soft and air permeable and has good absorption and suitability. The special PE lattice thin layer at the surface can prevent from adhering between wound and dressing. So when tear off or exchange, it would not cause any ache.
Suitable for hemostasis and production of protection of all kinds of light wound, such as brush - burn, cut, stab. It is also suitable for protection of fingers or other parts at part in some industrial fields.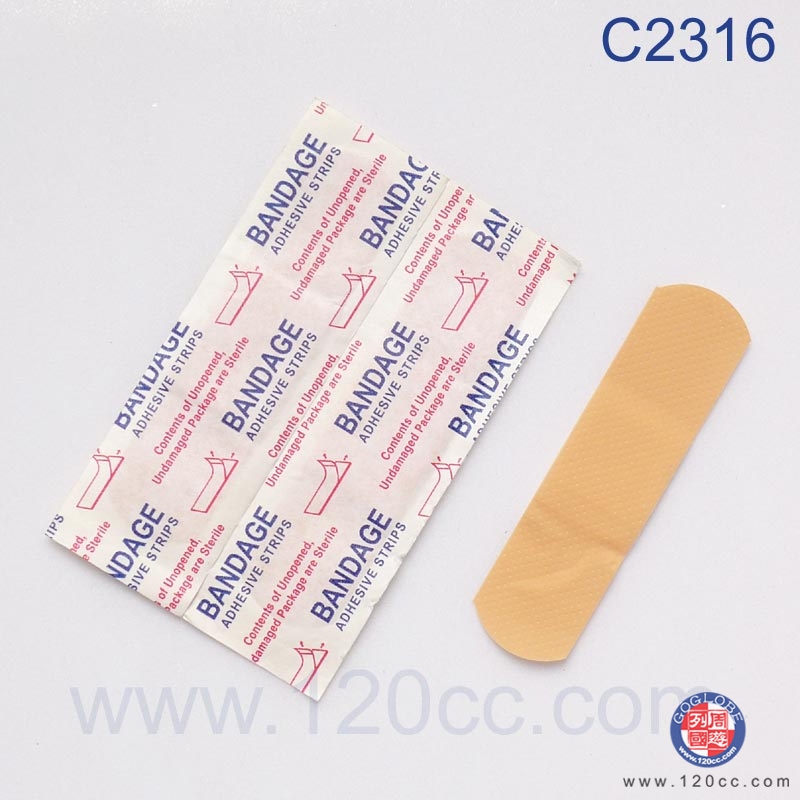 www.120cc.com
Guangzhou LCL Trading Ltd.
Tel & Fax: 86-20-81693450
Email: info120cc@aliyun.com
Sype: czs120cc Facebook: ××××× Twitter: ×××
Add:Rm 312, Building 1, Chajiao Rd, Guangzhou,510370 China